Rusty Hicks – Chair (2019-2021)
Alexandra "Alex" Gallardo-Rooker – Vice Chair
Daraka Larimore-Hall – Vice Chair
Jenny Bach – Secretary
Dan Weitzman – Controller
Alejandro Carrillo – Regional Director, CDP Region 4 (2019-21)
———–
2019-20 CDP Executive Board Assembly District 5 Representative
Michael Saunders – Cool (El Dorado)

CDP Assembly District Election Meeting (ADEM) AD 5 2019 Conveners
2017-19 Amy Champ – Regional Director CDP Region 4
Amy Champ – AD 5 North Jackson (Amador County)
Susan Rowe – AD 5 South Oakhurst (Madera County)
2019 and 2020 CDP Convention Assembly District Delegates (ADDs) AD 5 (AD 5 includes all or parts of Alpine, Amador, Calaveras, El Dorado (partial), Mariposa, Madera, Mono, Placer (partial) & Tuolumne Counties.)
Self-Identified Female
Elaine Hagen – Tuolumne (Tuolumne)
Kim Monson – Mariposa (Mariposa)
Janet Bell – Auburn (Placer)
Sarah Saunders – Cool (El Dorado)
Kathleen Barco – Placerville (El Dorado)
Ellyn Donovan – Placerville (El Dorado)
Patricia Pava – Shingle Springs (El Dorado)
Male/Other than Self-Identified Female
Josh Lewis – Volcano (Amador)
Matt Hagen – Tuolumne (Tuolumne)
Bob Vizzard – Newcastle (Placer)
John E. Savage – Placerville (El Dorado)
Michael Saunders – Cool (El Dorado) AD 5 E-Board Representative
Felipe Grimaldo – Madera Ranchos (Madera)
Estevan Gutierrez – Madera (Madera)
———–
2017-18 CDP Executive Board Assembly District 5 Representative
Lowell Young – Mariposa (Mariposa County)

CDP Assembly District Election Meeting (ADEM) AD 5 2017 Conveners
2013-17 Martha Gamez – Regional Director CDP Region 4
Elizabeth (Liz) McCulloch – AD 5 North Jackson (Amador County)
Susan Rowe – AD 5 South Oakhurst (Madera County)
2017 and 2018 CDP Convention Assembly District Delegates (ADDs) AD 5 (AD 5 includes all or parts of Alpine, Amador, Calaveras, El Dorado (partial), Mariposa, Madera, Mono, Placer (partial) & Tuolumne Counties.)
Female
Jenna Beck – Ione (Amador)
Janet Bell – Auburn (Placer)
Kathryn L. Broderick (Gallino aka Castell-Blanch) – Valley Springs (Calaveras)
Amy Champ – Plymouth (Amador)
Carla J. Neal – Madera Ranchos (Madera)
Anne E. Scott – Coarsegold (Madera)
Carey R. Wilson – Coarsegold (Madera)
Male
Santos Garcia – Madera (Madera)
Felipe Grimaldo – Madera Ranchos (Madera)
Peter Leinau – Oakhurst (Madera)
Donald W. Nielsen – Madera Ranchos (Madera)
Mike Patterson – South Lake Tahoe (El Dorado)
Scott Williams – Ione (Amador)
Lowell Young – Mariposa (Mariposa) AD 5 E-Board Representative
Map CA AD 5 ADEM Locations North Jackson (Amador County) and South Oakhurst (Madera County) For more about AD 5 go here and here and here and here.
Over lapping districts within the sierra foothills of AD 5 are State Senate Districts 1, 4, 8 and 12 (central valley) and Congressional Districts 1, 4, 8 and 16 (central valley).
STATE OF CALIFORNIA CITIZENS REDISTRICTING COMMISSION FINAL REPORT ON 2011 REDISTRICTING AUGUST 15, 2011 (pages 27, 29): For Northern California and the mountainous Sierra foothills regions, the Commission responded to public testimony asking us to separate more sparsely populated, rural regions from densely populated, urban areas. The 19 counties north of Sacramento span approximately a third of California's land, yet make up fewer than 5% of its residents, for a population density of 35 persons/square mile. In comparison, San Francisco has a population density of over 17,000 persons/square mile.  […] For the San Joaquin Valley and Central Coast regions, the Commission responded to public testimony asking us to respect the mountain range in between the two regions, with only one exception (the Senate district drawn to comply with the Section 5 benchmarks for Merced and Monterey Counties, which connected inland Merced County with the eastern part of Monterey County and San Benito County). The Tehachapi Mountains in the south also separate the Central Valley from Los Angeles County, and the Commission was able to honor this major boundary between regions. There was conflicting testimony about separating the communities of the Central Valley floor with that of the foothills and Sierras to the east, so the Commission further struck a balance maintaining the separations and connections between the Valley floor and these communities. Issues of water use, agriculture and urban economies, transportation routes, and environmental concerns framed much of the public testimony.  […] AD 5 includes the whole counties of Madera, Mariposa, Mono, Tuolumne, Calaveras, Alpine, Amador, western El Dorado County and a small portion of Placer County. This is a "foothill district" that keeps together communities from South Lake Tahoe through the foothills and Sierra Nevada Mountains including the El Dorado National Forest, Stanislaus National Forest, Mt. Whitney, and Mammoth Lakes. It reflects shared interests reflected in public testimony around issues such as weather, watershed, fire and recreation united around the transportation corridor of Highway 49 which runs north and south along the Sierra foothills. El Dorado County is split above Folsom Lake to distinguish the communities in the foothills from the greater Sacramento area.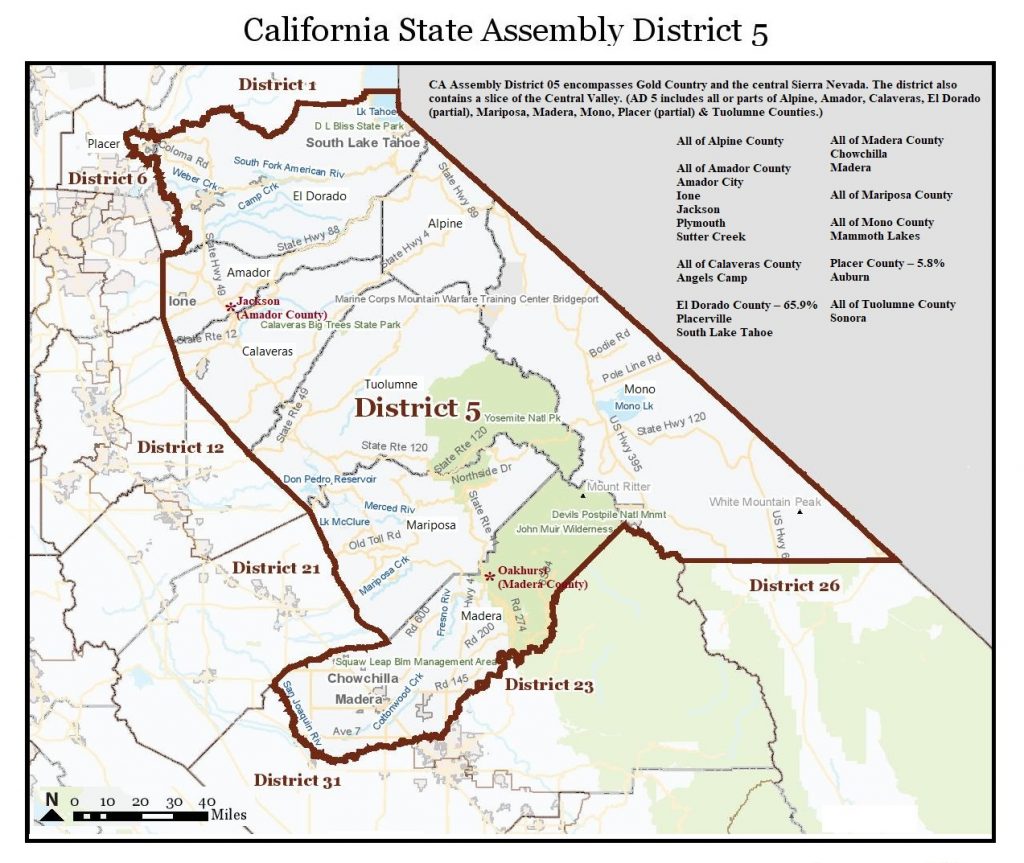 Voter Registration for AD 05
County
Democratic
Republican
No Party Pref.
Amer. Elect
Amer. Ind.
Green
Libertarian
Peace & Freedom
Other
Total
Alpine
312
205
200
0
25
5
6
2
3
758
Amador
6,423
9,812
4,619
0
942
102
295
61
51
22,305
Calaveras
8,099
12,264
6,920
0
1,345
188
447
94
234
29,591
El Dorado
22,970
29,277
18,726
0
3,304
567
1,083
251
604
76,782
Madera
18,129
22,114
14,349
0
1,786
161
437
204
238
57,418
Mariposa
3,051
4,617
2,394
0
417
85
121
30
138
10,853
Mono
2,280
2,011
1,892
0
257
53
66
29
9
6,597
Placer
4,260
5,742
3,371
0
483
82
218
38
62
14,256
Tuolumne
9,396
13,190
7,513
0
1,237
177
362
88
36
31,999
Total
74,920
99,232
59,984
0
9,796
1,420
3,035
797
1,375
250,559
Source: California Secretary of State; Data as of 2018-10-22
District Voter Registration as of 2018-10-22
Dems – 74,920 (29.9%)

Reps – 99,232 (39.6%)

NPP – 59,984 (23.9%)

Other – 16,423 (29.9%)
2018 General election CA State Assembly District 5
Frank Bigelow (R) 59.9%
Carla Neal (D) 40.1%
2018 Primary CA State Assembly District 5
Frank Bigelow (R) 62.4%
Carla Neal (D) 37.6%
2018 Gubernatorial Race (General election)
Gavin Newsom (D) 39.8%
John H. Cox (R) 60.2%
2016 Presidential Race (General election)
Hillary Clinton (D) 38.5%
Donald Trump (R) 54.8%
2014 Gubernatorial Race (General election)
Edmund G. ("Jerry") Brown, Jr. (D) 44.1%
Neel Kashkari (R) 55.9%
2012 Presidential Race (General election)
Barack Obama (D) 41.3%
Mitt Romney (R) 55.9%